What is a Commercial Ice Machine?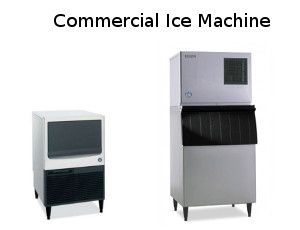 The definition of a commercial ice machine can be confusing at times. Typically, the term "commercial ice maker" is used to describe an ice machine which is designed and engineered for a commercial enterprise or business.
However, fishermen and individuals with home bars may use commercial ice makers in residential locations. As a result, the application of a commercial ice machine is not necessarily limited to commercial enterprises or businesses .
In most cases, commercial ice machines are made to a higher quality standard than residential ice machines. These ice machines are usually engineered to produce ice in constant cycles for hopefully many years. Additionally, most commercial ice machines produce a much greater volume of ice than residential ice machines. Residential ice machines may produce anywhere from 10 to 100 pounds of ice in 24 hours, while a commercial ice maker may produce anywhere from 50 to well over 2000 pounds of ice in 24 hours.
Beyond ice production, commercial ice makers are often designed to be far more serviceable than residential ice machines. Replacement parts may be readily available, and many service manuals can be found online.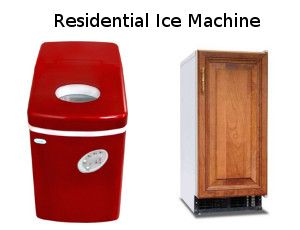 Residential ice machines are also typically more decorative than commercial ones. A residential ice machine may come in various colors and finishes. These ice machines are usually designed to be more aesthetically pleasing than commercial ice machines.
You can see there are many important differences between residential and commercial ice machines. Commercial ice machines are designed for rigorous use and high ice volume production in any restaurant, bar, concession stand, hospital, or hotel. However, residential ice machines are designed to provide a smaller volume of ice in home kitchens and bars.