: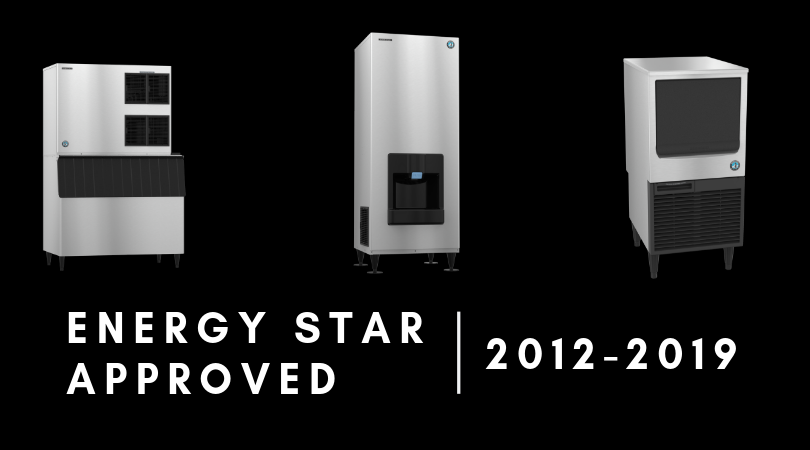 Hoshizaki ice machines are not only reliable, but also Energy-Star award winners since 2012. Hoshizaki's mission is "to provide original products which are goof for the environment with clear benefits for our customers." Hoshizaki recycles 100% of its' scrap metal, electronics, packaging, pellets, warranty returns, and parts. Some Energy-Star approved ice machines are the DKM-500BAJ, KM-1900SRJ, and the KM-80BAJ.
The DKM-500BAJ is a stainless steel ice machine with dispenser that's a part of the Serenity Series. It can produce about 545 pounds of crescent shaped ice cubes in a 24 hour period. Its' one piece design allows for easy installation and serviceability, while its' self-contained design reduces opportunities for cross contamination. Three year factory warranty ensures that your unit will keep your business running smoothly. This ice machine would be good for a hotel bar or restaurant.
The stainless steel KM-1900SRJ is featured in the KM Edge Design Series. It produces 1933 pounds of crescent shaped cubes within 24 hours, or stack it to produce 3866 pounds of ice instead. This machine is perfect for those busy restaurant or bar nights where you're going to need an ice machine that will keep up with that high volume.
The KM-80BAJ can produce 86 pounds of crescent shaped ice within a 24 hour period. It's a durable stainless steel exterior and slide door allow for front-in, front-out airflow. Removable air filter and built-in installation make set-up a breeze. This machine is perfect for an office building breakroom.
If you want an ice machine that is dependable, but good for the environment, then chose Hoshizaki!