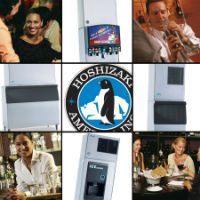 HoshizakiIceMaker.com, owned by B&G Refrigeration, is a dealer of Hoshizaki ice machines, ice bins, parts and accessories..
Our mission is simple: to provide the best Hoshizaki ice machine products to our customers at the lowest prices possible. Our online store is designed to provide you with a safe and secure environment to browse our product catalog.
Huge Selection at Low Prices
We strive to offer some of the most competitive prices on Hoshizaki ice machines, parts, and accessories in the business. In addition to our low pricing, our online store boasts one of the largest selections of Hoshizaki replacement parts.
If Hoshizaki makes it, chances are we sell it! If you do not see a Hoshizaki product you are looking for, call us at 1-800-965-0081 to order the part over the phone.
Experienced & Knowledgeable Team
For the past 30 years, our team supplied ice machines, parts, and accessories to businesses including restaurants, country clubs, universities, churches, marinas and more.
We regularly advise clients on what size and type of ice machine may suit their exact needs. We recognize the purchase of an ice machine can be a critical investment, so we want our customers to make well-informed decisions. If you have any questions, comments, or concerns please email us at info@hoshizakiice.com or call us directly at 1-800-965-0081.
Fast & Free Shipping
We offer free shipping on all products in our store! In addition, our Hoshizaki ice machines come with a free 3 year warranty which includes parts and labor, so you can buy with confidence.
Most of our orders are shipped within 24 hours of being placed, so you can receive your product as fast as possible.